Recommended for Short-time Visitors

Time Required
2hrs.
Standard / Max 4
9,320 yen
Jumbo (Special Full Size) / Max 9
13,720 yen

DOES NOT include permission fees and parking
※If you have requests for any changes during your trip, please feel free to ask your driver.
Pick Up Location
We will pick you up at any station, hotel, or place where you want in the central city.
Megane-bashi(Spectacles Bridge)
The arch-shaped stone bridge crosses the Nakashima River. It is one of the most important national cultural properties. There are heart-shaped stones in the rock arrangement which are hidden around the bridge. Why don't you try to find them?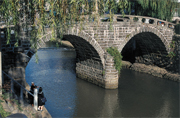 Sofukuji Temple
The main temple is a national treasure and there are many important cultural properties and assets. You can pass through the gate and see its delicate decoration up close.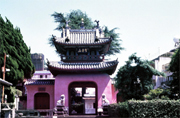 Hollander (Dutch) Slope
European residents of Nagasaki had been called "OLAMDA-SAN" (Dutchmen). They have been using this slope, and that's where the origin of the name comes from. It's a bit steep. You can stand firmly on the stone pavement and look around the old European style buildings.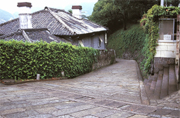 Confucian Shrine
It`s the Chinese traditional architecture. This temple is used as an intercultural place. It's popular for praying for school success. The Historical Museum of China is also located here.
Glover Garden
This World Heritage site is known as Glover House. There are many historical European style houses with beautiful green gardens. Please enjoy the exotic atmosphere of the Nagasaki Harbor from the top of the hill.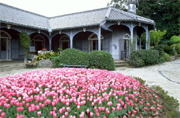 Oura Cathedral
The oldest wooden Christian architecture in Japan, it has been designated a national treasure. The Gothic style and beautiful stained glasses are the main features of this church.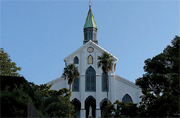 Dejima
Dejima was the only window to trade with the Dutch. There are historical sites and buildings, the Mini Dejima, and many others reproducing the details of that time.
Drop off Location
We will drop you off any station or place where you want around the central city.

Reservation / Contact Us
In the following form, please write questions and submit.
※We will only reply to you in English.