Except for Mt. Inasa Observation Platform, it is possible to change your route.
Time Required
2hrs.
Standard / Max 4
9,320 yen
Jumbo (Special Full Size) / Max 9
13,720 yen

Parking fees (30min / 100 yen)
※If you have requests for any changes during your trip, please feel free to ask your driver.
Pick Up Location
We will pick you up at any station, hotel, or place where you want in the central city.
Mt. Inasa Observation Platform
The night view from Mt. Inasa is the most popular tourist spot. It is one of the top three night views in Japan. You can enjoy the spectacular view of Nagasaki. It is referred as Nagasaki's "10 MILLION DOLLAR NIGHT VIEW".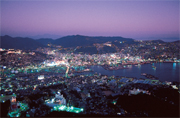 Urakami Cathedral
Urakami Cathedral is a bombed Catholic cathedral which is located near Nagasaki's Ground Zero. You can view the headless statues of the saints, the bell tower that was blown off by the atomic bomb, and a wooden figure of the Virgin Mary which miraculously survived the heat of the nuclear blast. The church was rebuilt after the tragedy and mass is still held to this date.
Megane-bashi(Spectacles Bridge)
The arch-shaped stone bridge crosses the Nakashima River. It is one of the most important national cultural properties. There are heart-shaped stones in the rock arrangement which are hidden around the bridge. Why don't you try to find them?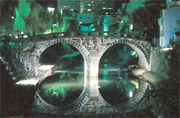 Shianbashi
Shianbashi is a large entertainment district of restaurants and drinking bars located in an arcade in Hamanomachi in Nagasaki city. The river flows underground so there is no actual bridge as one may think from the name (the "bashi" in Shianbashi translates as bridge). It is said that the name "Shian" (translated as "contemplate") came from all the guys who wondered if they should go or not to enjoy themselves.

Dejima
Dejima was the only window to trade with the Dutch. There are historical sites and buildings, the Mini Dejima, and many others reproducing the details of that time.
Drop off Location
We will drop you off any station or place where you want around the central city.
Reservation / Contact Us
In the following form, please write questions and submit.
※We will only reply to you in English.